Find your Two Story Tiny House
While there are many people who are on the look out for a small tiny house to keep the cost down, there's also those who want something larger for the whole family. Therefor we've listed Two Story Tiny House for sale that suits you who want some extra space. 
To begin with its nice to separate where you hang out all day and where you sleep. Since this is also recommended by research for better sleep quality, it's another advantage. Secondly you'll have additional space where you both can store essentials, design a beautiful bedroom or decorate a guest room. Lastly it's incredibly cozy to step on the ladder towards the loft to enjoy a lovely book and a cup of coffee.
Although the price increases the more square feet the Tiny House have, you sure get a lot of extra space for the extra money you pay. So if you want to live permanently and be able to walk around to different areas of the house, then a Two Story Tiny House is perfect.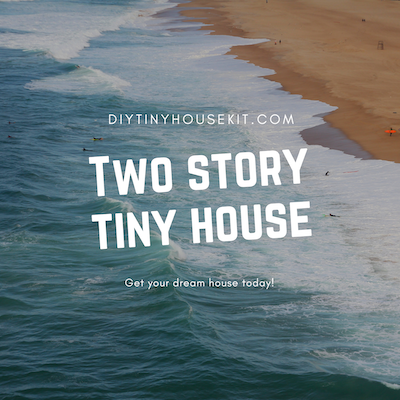 Two Story Tiny House Interior
One huge advantage with a larger space is of course to design the interior of it. In essence the interior is what constitutes how good you feel every time you step into the house. Because of the space inside a two story tiny house you have many possibilities to create your dream home. Moreover, you can decide which area of the house that should have extra space if you want to be able to workout or simply walk around. As an illustration of this we've attached examples of how one of our customers designed their tiny house below.
As you can see you will have space for a dedicated kitchen with a sink, fridge, freezer and a table where you can enjoy meals together. Secondly you can divide the area with different colors on the floor so it creates an illusion of division – just like on the picture below.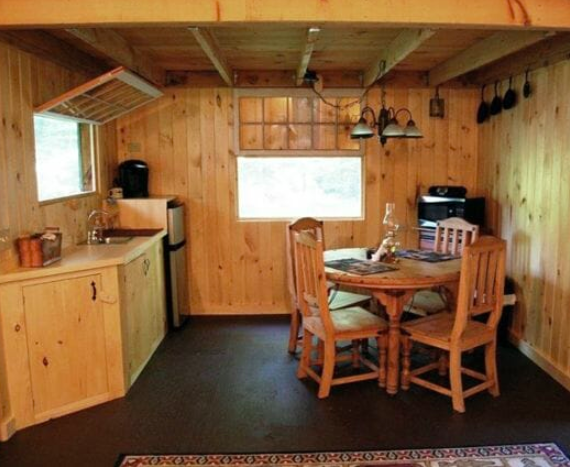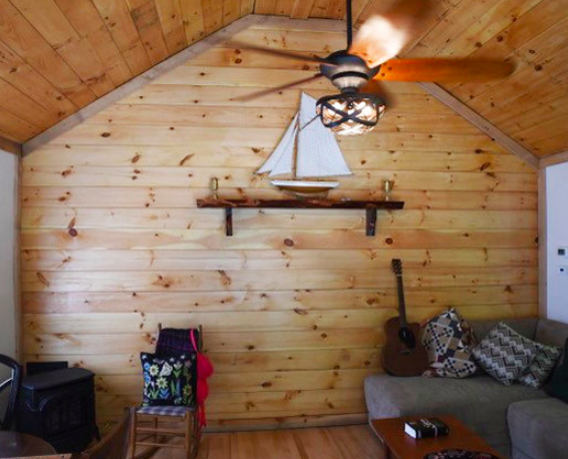 Two Story Tiny House for Sale
Many of our visitors are surprised when they find out that a Two Story Tiny House cost under $20000. To illustrate this we'll take the example of the very popular Vermont Cottage C. Here you have a tiny house with a base area of 320 sq. ft. along with a loft area on 128 sq. ft. with ladder access and limitless potential. Additionally, it has a porch on 64 sq. ft. which you can design beautifully and use as a relaxation area outside. 
In conclusion you should choose between Pre-Cut Kits depending on for how many seasons the Two Story Tiny House should be adjusted for. For example, you can buy one that suits 3 seasons and another that supports all-year living – the last option is of course a bit more pricey. Of course, you can buy the plans first so you can make up your own idea of the build, then think for a while before making your choice.
Aside from what we've already mentioned in this guide we've listed a summary below of the most important things to consider.
Make sure that you have ladder access to the second story/loft – you should not have to buy this separately.
Check with the retailer if the house is isolated.
Analyze the product images carefully and ask the retailer all the questions you might have before purchasing.
If you instead want a cheaper house kit you should check the houses under $5000.

Find more inspiration at

Tiny House Kit on Wheels

and all the lovely

Shipping Container houses

.